For Illustrated Step by Step instructions…
Read the detailed tutorial at VPS Basics: How to Automatically Sync DNS Records between CloudFlare and DirectAdmin
Get the plugin
To access the Standard version of this plugin, click on the 'Get daflare Standard' button on this website. Read the license and add the plugin to your cart. Go to checkout, type in your name and email address and then 'Checkout' (no cost) and an email will be sent to you with a link to download the plugin.
We recommend that you subscribe to our mailing list for updates. You can unsubscribe at any time.
Download the plugin
After checking out, a link will be sent to you to download the plugin. It is a .tar.gz file which is ready to upload to DirectAdmin.
Add the plugin to DirectAdmin
Installing and upgrading daflare is easy using the DirectAdmin Plugin Manager.
Login to your DirectAdmin control panel (Admin access level)
Click on 'Extra Features' -> 'Plugin Manager'
Click on 'Add'
Next to Upload Method select 'File'
WARNING: the file you are uploading MUST be named daflare.tar.gz – if you have downloaded it a couple of times to your computer and it has been renamed anything else (eg. daflare (2).tar.gz), it will not work!
Drop the file you downloaded into the dropzone, or click and select the file
Enter your DirectAdmin password to confirm installation
Leave 'Install after upload' checked to install the plugin immediately
Click Install
Once installation is complete, the plugin will be listed on the Plugin Manager page. In the DirectAdmin 'Extra Features' menu you'll find a new entry, 'daflare', which will take you to the plugin configuration.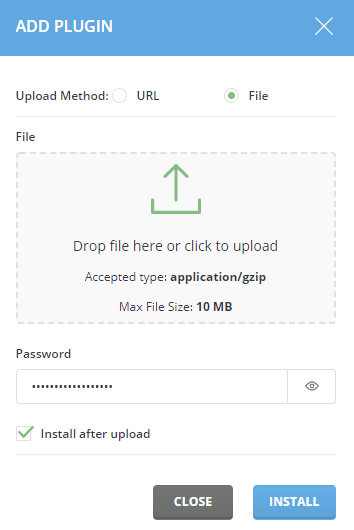 NOTE: For previous users of the Github project
If you are one of the many users of the predecessor of this plugin (directadmin_cloudflare_dns), you will need to disable that script before you are able to install daflare. Don't worry, if you forget to do it, daflare won't let you install and will give you a message telling you to remove that script which is run from: /usr/local/directadmin/scripts/custom/dns_write_post.sh – WARNING: Make sure that you don't have any other customizations in that script before deleting it – maybe start by renaming it…
Please also note that unlike the original script, this plugin now synchronizes NS records from DA to CF, with the exception of the …ns.cloudflare.com NS records, which Cloudflare adds automatically. SO, if you have a custom NS record that you have created with the Cloudflare Dashboard, and it doesn't exist on your DirectAdmin DNS, the record will be deleted from Cloudflare.